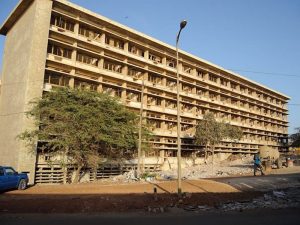 Dock / Ancien Palais de Justice is a Sound installation and listening space by Paul Devens with Justin Bennett at Les Brasseurs art contemporain, Liège; it is coordinated and curated by Les Brasseurs (Jérôme Mayer and Corentin Lahaye), Paul Devens and Cedrik Fermont.
The installation 'Dock / Ancien Palais de Justice' invites the visitor to walk around in a construction, based upon the original floor plan of the old courthouse. This is indicated by microphone stands and running audiotape, which links the resonance of a past to recorded sounds of today.
The ideas on habitat and identity, colored in a personal human environment, and how it changes when the situation is transitional, opened up ways to invite a number of sound artists to compose a dedicated soundscape for this project. A listening space is equipped with a surround installation to serve a spatial experience of these contributions, curated by Cedrik Fermont and Paul Devens.
With contributions of:
Anne Wellmer (DE/NL)
Cedrik Fermont (CG/BE/DE)
Christian Galarreta (PE/FR)
Cilia Erens (NL)
Elise 't Hart (NL)
Elsa M'Bala (CM/DE)
Eran Sachs (IL)
Erdem Helvacioǧlu (TR/US)
France Jobin (CA)
Jett Ilagan (PH)
Justin Bennett (GB/NL)
Kamran Sadhegi (IR/US)
Leonie Roessler (DE/NL/US)
Lloyd Dunn (CZ/UK)
Mike Kramer (NL)
Raul Keller (EE)
Robert Curgenven (AU/IE)
Simon Weins (DE/GB)
Stelios Manousakis (GR/NL)
Soheil Soheili (IR)
Zeno van den Broek (NL/DK)
Dock / Ancien palais de justice from Paul Devens on Vimeo.

More Information of this Exhibition below:
http://www.lesbrasseurs.org/2019/01/1201-070219-paul-devens-nl-dock-ancien.html